Wembdon Colts FC U18's Youth Team 2018/2019 Season
We have great pleasure  to be a sponsor of my newly formed local Wembdon Colts U18's Youth team, and will be playing in the Somerset U18's Youth League this coming season 2018/2019, we are based at the newly opened Village Hall (The Green at Wembdon)  which also accommodates youth football from the age groups of under 6's to U18's also from this coming season the two adult teams will be playing at the green.
Wembdon Football Club has been growing more and more over the years, especially now with are new up to date facilities including fully equipped changing rooms/showers, licensed bar and function hall.
The club now have approx 250 players signed on from all age groups.
   2018/2019 U18's Colts Squad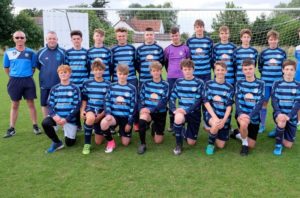 2017/2018 U16's Squad
    2017/2018 Presentaion Day
Wembdon FC Home Ground
TA6 7BY